Why?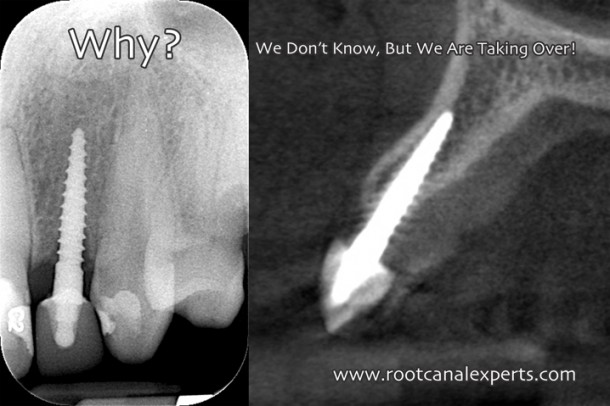 COURSE BACKGROUND
We met Keve in November 2010; she came to our office and quickly pointed out that she was terrified of dentists and that she had awful experiences on and off with dentists. She then shared with me that she had just gotten married and had a congenitally missing lateral incisor (tooth #10); for her wedding pictures she did not want to wear the old flipper her dentist had made for her when she was a teenager but wanted a more permanent solution for her tooth so she chose who she was told was the best dentist in the area to do so.
I casually asked her who had done the implant for her and she replied she didn't remember so I went ahead and asked her who had restored it for her and she mentioned that the same dentist restored it. I then asked how soon before her wedding she had the implant done and restored and how long did it take and she said it just took an hour, included the crown and she had paid $2,000 for it. We dentists can relate to my next question:
"Keve, do you mind if I take a radiograph?" and there it was…
Many times in situations like this we feel helpless, but this time was different. I knew it was time to show Keve that our profession is exceptional, predictable and an awesome rewarding experience if the doctor surrounds him/herself with a team of experts that have the opportunity to carefully evaluate the patient's needs and communicate with each other to create exceptional results. Our team met on many occasions and decided to not only provide her with the best treatment plan possible but that we would all share the costs of her treatment without her spending a single cent. I guess sometimes enough is enough…
Let us introduce you to Keve's case: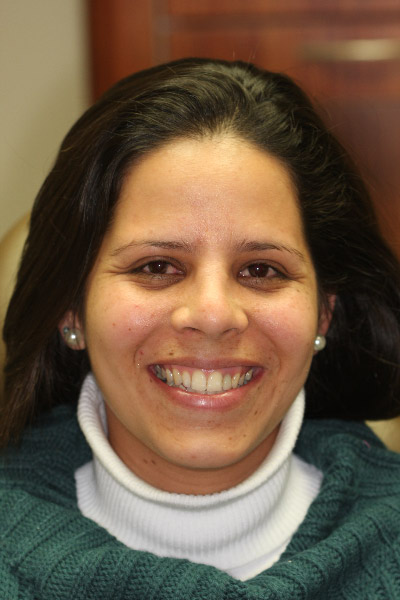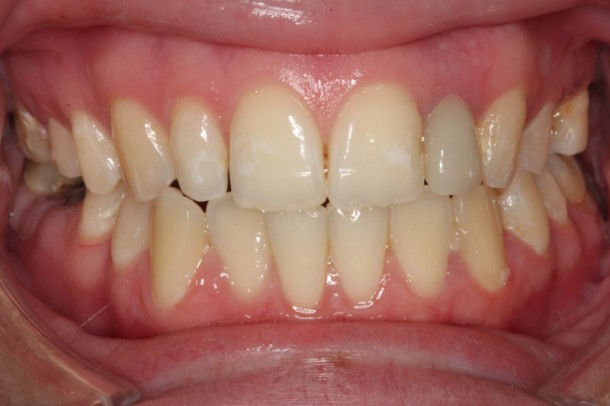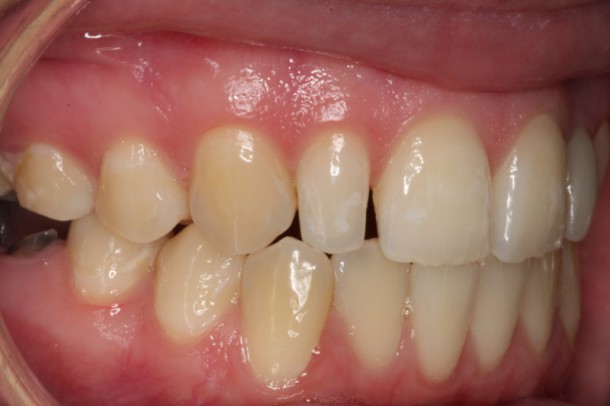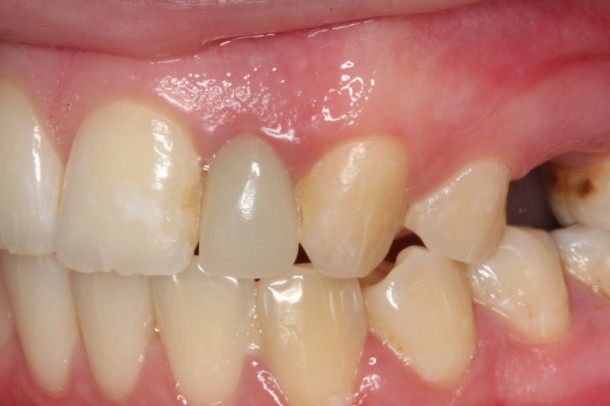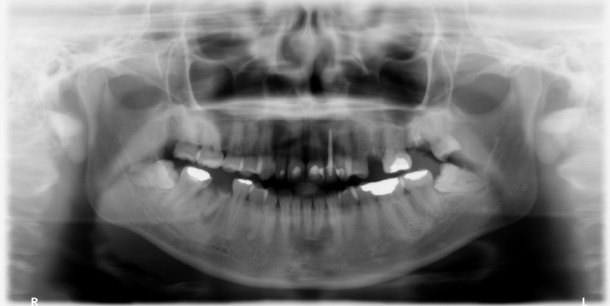 Please read the course schedule below. Our course will require that you are present for all the lectures, therefore please make sure to carefully review all the dates below prior to deciding to participate in this event.
The sign up form will only be opened until the first 12 participants sign up, at which point the process will be closed.




COURSE SCHEDULE
April 2011
• Case Presentation – 4/7. From 5:30 pm to 9:00 pm (3 hrs CE)
• 1st Surgical Phase – 4/28. From 5:30 pm to 9:30 pm (3.5 hrs CE)


May 2011
• Operative Phase – 5/5. From 5:30 pm to 9:30 pm (3.5 hrs CE)


June 2011
• Endo Phase – 6/16. From 5:30 pm to 9:30 pm (3.5 hrs CE)


October 2011
• Ortho Phase – 10/6. From 5:30 pm to 8:30 pm (2.5 hrs CE)


February 2012
• 2nd Surgical Phase
(Behind the scenes – no lecture)


October 2012
• 3rd Surgical Phase – 10/4. From 5:30 pm to 8:00 pm (2 hrs CE)


Sept 2012
• Posterior Crown Work (Behind the scenes – no lecture)


Dec 2012
• Ortho/Braces Off (Behind the scenes – no lecture)


Jan 2013
• Posterior Crown Cementation (Behind the scenes – no lecture)
• 1st Cosmetic phase (Veneers #4-#13) – 1/11/13. From 7:30 am to 5:00 pm (7 hrs CE)


Feb 2013
• 2nd Cosmetic Phase (Anterior Cementation of Veneers) – 2/15/13. From 7:30 am to 4:00 pm (6 hrs CE)


March 2013
• Wrap up – 3/14/13. From 5:30 pm to 7:00 pm (1 hr CE)




COURSE DETAILS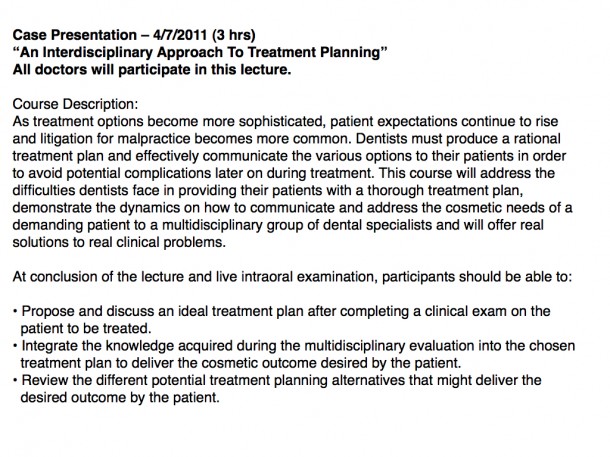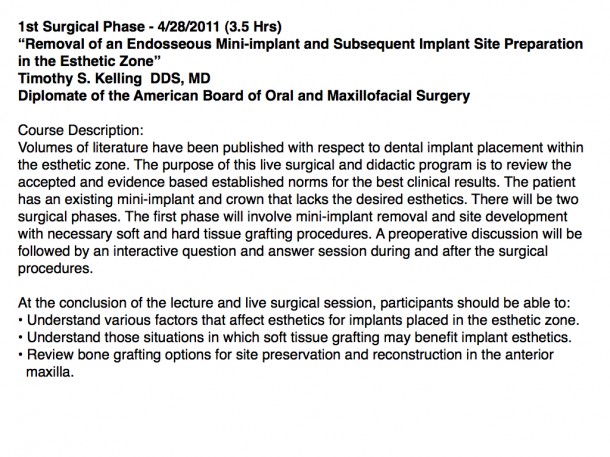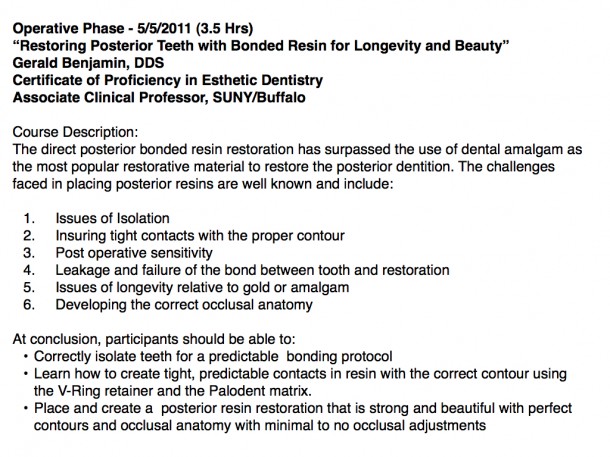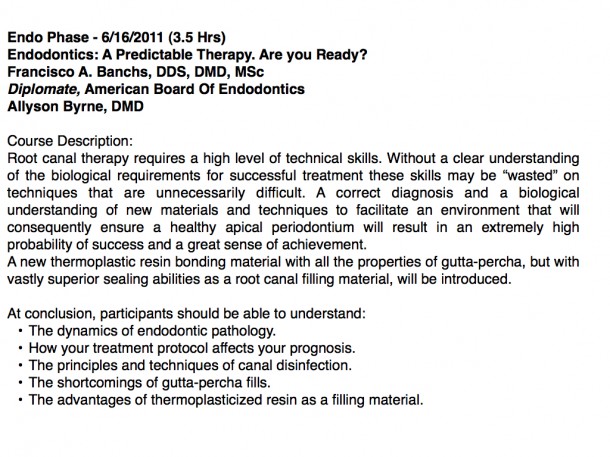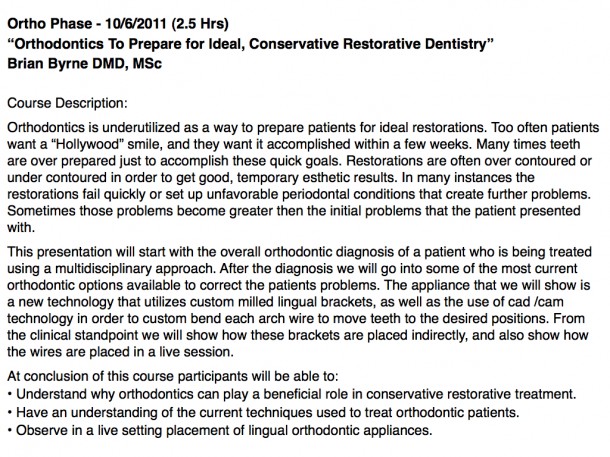 The following course will no longer take place on May 3rd, it was rescheduled to 10/04/2012: